I love any cause for celebration! (Celebrations usually involve Sugar. Sugar is an ingredient in Cake. Cake is usually followed Ice Cream.) #majorwin
This month marks 100 years since the
Family Home Evening
program was established! While I wish I could somehow send cake and ice cream through the interwebs to commemorate this momentous day, that technology still awaits development. In the mean time, I've teamed up with some awesome bloggers to create Family Home Evening lesson plans based on the April 2015 sessions of General Conference. Read on for my FHE outline based on
The Lord is My Light
by Quentin L. Cook.
Opening Song Ideas:
Hymn #89
The Lord is My Light,
Primary Songbook Pg. 88
On a Golden Springtime,
Hymn #304
Teach Me to Walk in the Light.
Ask children to think about an experience where something was hard for them. Discuss how they felt during their time of difficulty. Explain that in General Conference, Elder Cook taught us how we can find joy even during the hard times of our lives.
Read Elder Cooks' account of the sunflowers near his Grandparents' home:
My wife, Mary, has always loved sunflowers. She rejoices when they, in quite improbable places, appear on the roadside. There is a dirt road that leads to the home where my grandparents lived. When we started down that road, Mary would often exclaim, "Do you think we will see those amazing sunflowers today?" We were surprised that sunflowers flourish in soil which has been impacted by farm and snow removal equipment and the accumulation of materials that would not be considered ideal soil for wildflowers to grow.
One of the remarkable characteristics of young wild sunflowers, in addition to growing in soil that is not hospitable, is how the young flower bud follows the sun across the sky. In doing so, it receives life-sustaining energy before bursting forth in its glorious yellow color.
Watch the following video of a sunflower bud following the sunlight:
Discuss the following quote from Elder Cook:
Like the young sunflower, when we follow the Savior of the world, the Son of God, we flourish and become glorious despite the many terrible circumstances that surround us. He truly is our light and life.
Brainstorm ways we can "Follow the Son". (Examples include reading the scriptures, praying, attending church, going to the temple, keeping the Sabbath Day holy, etc.)
Bear you testimony of the importance of staying near to God through both the happy and trying times in life.
Flashlight Follow: Turn off all or most of the lights in your house. Ask an older sibling or parent to hold a flashlight and walk to another room where the treats are being kept. Explain that the family is going to pretend to be sunflowers and follow the flashlight to find nourishment, just like real sunflowers do with the sun. (Make sure to clear the pathway of any obstructions before hand. Note: Teeanger's clothing-laden bedroom floors may not be the best place for this activity.) ;)
Gardening: Plant sunflowers together. Through the coming months, be sure to notice how they follow the sunlight while they grow.
Coloring Page:
Download the coloring page from Google Drive,
here
. Have family members write or draw one way they can follow Jesus Christ in each flower petal.
Click here to download this free coloring page.
Sunflower seeds are always divine! Roasted, salted, plain, or even chocolate covered . . . Mmm my mouth is watering!
Or whip up a
sunflower cake
!
And of course ice cream is always a good idea.
If you'd like more inspiration, visit these other bloggers to find more great family home evening lessons based on a talk from the April 2015 General Conference! Be sure to leave them comments thanking them for their hard work in putting the lessons together.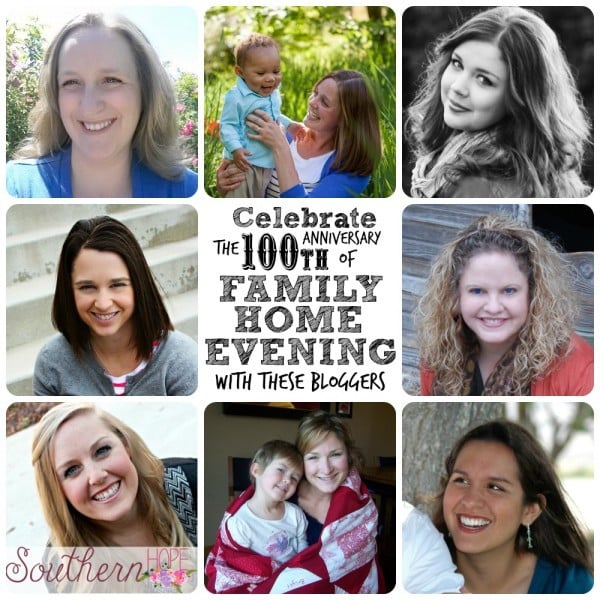 Happy Monday, and here's to another wonderful hundred years of FHE!
Note: The original image for the sunflower coloring page was found on MormonShare,
here
.